By car
From Älmhult you drive east on road 120, direction Tingsryd. Within 10 kilometres you will pass a sawmill on your left hand side. After another 300 metres, Egen Ingång is on your right hand side. A roadsign is placed in front of a canoing centre. Parking is on left hand side, beside the house.
By Bus
Bus number 130 drives between Älmhult and Ryd. The bus stops in Fanaholm, just outside Egen Ingång. Up to date time tables are found on Länstrafikens website.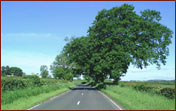 By train
The train station of Älmhult lies on the main track between Malmö och Stockholm. Several trains stop throughout the day. See the SJ website for time tables and rates.
Do you need a lift from Älmhult? Please give us a call if you wish to be picked up!